Business solutions for the

IT

sector



Nature is our role model...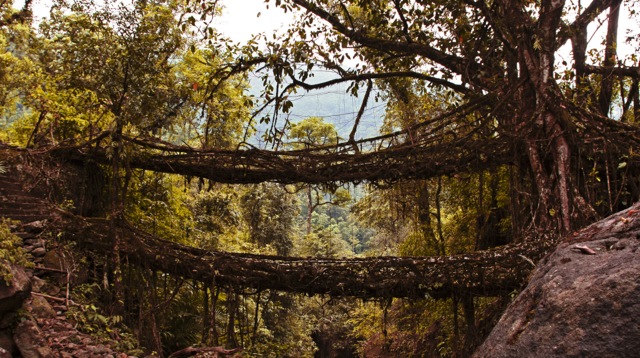 … because it is fascinating how it evolves continuously and adapts perfectly to the circumstances. In the instance described below, humans have made use of nature to satisfy strong needs: they needed bridges and to avoid rebuilding– because of the recurrent flooding - again and again new bridges made of inflexible raw materials, they found a flexible, permanent solution that we would nowadays probably describe as 'sustainable'.
The inhabitants of the rainiest region in India managed to build living bridges by purposefully enabling offshoots of trees / plants on one riverbank to get attached to the other side. An ever-denser network of branches was created over time that resisted even flooding and was extremely durable. This idea is summarized under the concept of "building botany". We think it is fantastic!
We are also enthusiastic about information technology and we are pleased with every day on which we managed to build a new, living bridge (between people) that is resilient and can withstand even the biggest storms and flooding. Together with you, we would also like to meet your (natural) challenges to build every day new bridges in your company!
Customer orientation with reliable and needs-based services does in our view build the best bridges.
Do your (IT-) clients always expect things that you do not have or, if you do offer them, they are allegedly always way too expensive compared to third-party offerings? Or does your IT service offer things you never wanted and is charging what you cannot use? Is maybe also nobody listening to you in the first place? Or does just nobody understand what you want?
A binding service agreement could contain the expectations of all parties involved and furthermore a result that one side is expecting and the other side can achieve in the described timeframe, quality and under the quoted terms as well as if required goods and services are provided as agreed. However, fully describing every single performance to that extent would go beyond the scope of a reasonable service agreement. The modular design of the services allows for the necessary simplification. This results in a catalogue with basic and enhanced services.
We have the appropriate tools, methods and knowledge to identify, describe and standardize services so that their quality can be determined, they can be evaluated, financially assessed and negotiated with customers. If required, we are glad to assist with customer negotiations.

To find out how you can present services in a catalogue so that it is the basis for a sound financial planning, facilitates a precise grip on the appropriate adjusting screw and allows for an optimum capacity and resource planning please continue reading here.
Service contracts provide clarity.
Service contracts, also called "Service Level Agreements" (SLAs), are the basis for your cooperation with your clients or IT service providers for in the contracts, the desired range and the quality of IT services are determined and the rules for the cooperation are defined. In doing so, it is especially important that your expectations are verifiably met.

The clarification of every detail often makes contract negotiations a lengthy effort that ties up resources and capacities in your company. In close cooperation with you, we assume the optimization and development of the SLAs for your company and put our main focus on those areas that are crucial to you. But in practice, contracts are only as good as they can be implemented and controlled. If needed, our consulting service continues even after the conclusion of an agreement, because already when monitoring service-agreements, new potential for improvement might become apparent. Your contract exists in a process that is supposed to continuously develop with the circumstances. Exploit this potential!
To find out how to assign a specific price to every single service, how to establish appropriate control mechanisms and thus allowing for the satisfaction of clients and service providers, please continue reading
here.