Business solutions for the automotive industry

Nature is our role model...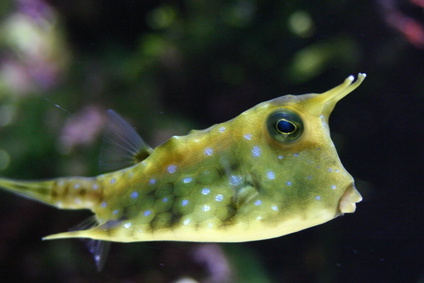 ... because it is fascinating how it evolves continuously and optimally adapts to the environment. Not only we are following nature's example, a separate industry sector pursues the exploration of nature: bionics. Engineers of a famous automobile manufacturer search a model in nature which entire form and structure comes as close to the ideas of a modern car as possible. They found: the boxfish! Although ist torso is (apparently) cuboid and bulky, it has an extremely streamlined design. In the wind channel, a reproduction of the boxfish achieved the exceptionally good drag coefficient (cW value) of 0.06. A car model with a scale of 1:4 corresponding to the basic form of the fish could reach the unique cW value of 0.095. The finished, functional prototype with a cW value of 0.19 is extremely streamlined.
The result is considerable: no other car in the category of four-seat compact cars with the dimensions length: 4,24m, width: 1,82m and height: 1,59m could even come close to this value.
So it pays to take a look at nature when striving to find an optimum solution. Together with you, we meet the (natural) challenges of optimized IT support and IT operations as well as the application management in the automotive sector.
Building cars in small quantities – at best manufactured by hand – is today a privilege of those who sell their vehicles to exclusive customers. If the quantity becomes larger or if a specific price cannot be reached, there is a growing need for automation and thus often for a corresponding simplification of production conditions. To ensure the overview and the control over quantity and quality it is – apart from all simplification and automation – essential to keep an eye on details. The bigger and more complex production, the less likely a competitive production can be realized within a reasonable timeframe and adequate reliability without the support of a reliable IT. The IT not only makes it possible to monitor and control production processes and results but also to integrate suppliers. Thus, unnecessary interim storage can be avoided and costs as well as availability can be monitored at all times.
Even the smaller, more exclusive automobile manufacturers rely on IT components to plan or to order parts – IT is indispensable.
To find out more about our thoughts on "keeping an eye on details", please continue reading here.
Standardization while maintaining brand diversity
The challenges in the technological triangle of "mobility", "internet of things" and "industry 4.0" do not become smaller.
The car helps us to fulfill our wish for self-determined mobility. We expect the car to bring us from A to B while at the same time we maintain our personal and social network or receive media contents. Thus, manufacturers are asked to offer hybrid solutions for autonomous as well as driver-controlled mobility. The installation of technical equipment – or the "internet of things"- helps you to do so. The "internet of things" describes the development and the use of intelligent technical devices that support people in their activities without distracting them or attracting attention. Besides, the next industrial revolution, "industry 4.0", is imminent. The aim is to reach a harmonic standardization of production techniques within an intelligent factory that can always be adapted to change and that makes specific and unanimously sensible use of resources.
While the individual brand shall stand out clearly, production conditions are to be standardized to achieve the desired margin also in future.
To find out more about the targeted standardization of production processes while at the same time sharpening the external impact of the model or brand, please continue reading here.
The cooperation between manufacturer and trade, between dealer and client is one of the biggest challenges. While the client is checking if the vehicle fulfils the latest expectations, the dealer has to identify these needs, meet them or find a compromise for which he needs to remember a multifaceted catalogue of extras with mutual exclusion criteria. Nowadays, he does not meet the client so often – a sales conversation that at the second attempt does not yet result in an order or purchase of the vehicle already has an unknown outcome – this used to be different in the past. The dealer was still the expert and the client was less interested in and informed about special equipment, technical gadgets, versions and functions.
Today, the client is considerably better informed; he can access a large amount of information and has the chance to prepare himself for a conversation.
To find out more about our thoughts on potential difficulties in communication between dealer, client, manufacturer and suppliers, please continue reading here.